D'ZIEL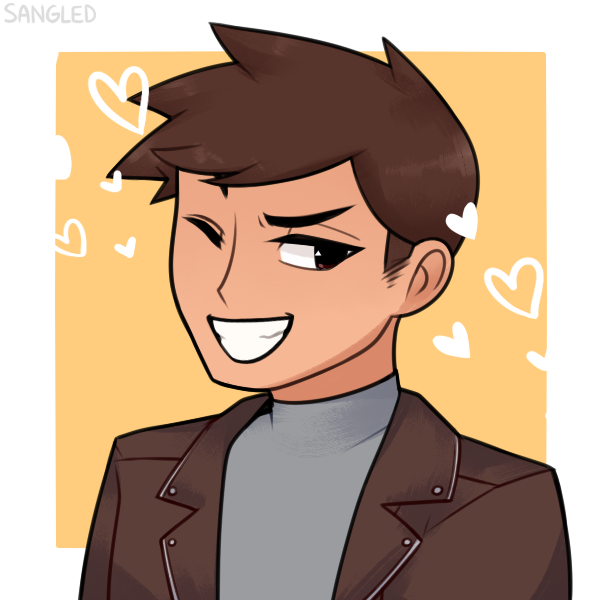 "Lighten up, baby! Life's too short, let's have some fun!"
BASICS
NAME:
D'ziel
GENDER:
Male
PRONOUNS:
He/Him/His
ORIENTATION:
Pansexual, open to monogamy/poly/anything
BIRTHDATE:
Autumn 2741
AGE:
30 as of Late Spring 2772
LOCATION:
High Reaches Weyr
OCCUPATION:
Brownrider
WING:
Moonshot Wing
APPEARANCE
EYES:
Dark, dark brown
HAIR:
Medium brown, short
HEIGHT AND BUILD:
6'0", fit
PLAY-BY:
Picrew
FULL APPEARANCE:
Though D'ziel is average in height and fit in build, it is truly his bearing that might draw one's attention. He carries himself with an unmistakable confidence, but not the sort of quiet, easy confidence of a big cat, for example. His confidence oozes from every pore, demands attention, and flaunts in the face of all who lay eyes on him how secure he is in himself.
What truly draws the eye to D'ziel is, more often than not, the smile he is so generous with. His eyes, dark as they are, are usually filled with mirth and friendliness. He is an overwhelmingly friendly-seeming person. The only true oddity to his appearance is that he seems to vastly prefer his riding gear to any other clothing and is almost exclusively found in his leathers.
PERSONALITY
PERSONALITY:
D'ziel is a warm and friendly person, and that is at times an understatement. He will go out of his way to make anyone feel welcome when he is around; if someone seems to be the outsider in a group of people, he will approach them to make small-talk. He loves to engage with others, flirt, and in general have fun. Anything resembling a party is the place he wants to be, but not the classy and refined sort. He enjoys gatherings with loud music, bawdy songs being sung, and plenty of shenanigans afoot.
He can be rowdy to the point of annoying those around him. Sometimes he does not know when to be serious, and sometimes he comes across as brash. He likes to wander romantically and socially, though he always cares for those he has grown close to. He can act quite the charmer, but the reality is, he's more of a rough and tumble sort.
Commitment may terrify him, but he isn't afraid to get dirty. He likes to be physical--wrestling, tussling, dueling--and fears no dirt, mud, or otherwise. At times he can come across as insolent, although it's never his intention and is usually a product of his feeling more than comfortable or assuming someone is as laid back as he is.
In all he is a good man, he is just a little rough around the edges and more focused on being open and free with his love and life than settling down and being serious about...pretty much anything.
HISTORY
FAMILY:
Uncertain
SIGNIFICANT OTHER:
None
BIRTHPLACE:
Cothold beholden to Ista Weyr
HISTORY:
Coming from something of a minor cothold, D'ziel would have known his family, if he hadn't been an orphan from birth. His mother had died in bearing him and his father was an unknown even among the people of the cothold, so it came to the people of his home to raise him. He spent his child as a fosterling, which meant he met a lot of different people.
He worked hard, even as a child, to make himself a place at home. He honed his speaking abilities, his charm, to befriend as many people as possible. As a youngster he was well liked, cheerful and outgoing; the older he got the less he felt that way internally, but he maintained appearances as long as he could.
Not much held him at his cothold, not the way he saw it. Fortunately, it wasn't long before he was Searched, shortly after he was old enough to stand as a candidate. And he figured if there were no humans to call family, he would look for a dragon--or a wher. He wasn't picky. When Ista Weyr failed to see him bonded in one way or another, he sought to transfer to High Reaches Weyr--somewhere a little more forward thinking.
And finally, it happened! It was a dragon who chose him. Brown Setth eventually hatched and Impressed to him, and D'ziel found himself a very proud Dragonrider. He'd gone from orphan and fosterling to someone with a lifetime friend and a purpose in life, and he learned how to start feeling happy again rather than acting it. Setth brought out the rowdiness in D'ziel that had always lurked there under the surface, showed him how life could be a party! And it's been a party ever since!
Well, except for the Threadfall, the political intrigue, the drama and tragedy that comes with being a Dragonrider. Most events were easy enough to shrug off or bull through; little would put a damper on D'ziel's desire to have a great time. The plague that struck Pern stole from him some of his foster family, for which he grieved intensely. Dragonriders murdered and kidnapped and fought, mystery eggs appearing...
It became harder and harder to maintain that nothing was wrong, that life was great and fine and the party would never end. The dragons seemed to be getting weirder than ever, and the riders and Weyrfolk right alongside them. And with High Reaches seemingly unable to keep a gold in the Weyr, he worried for the future of what he'd hoped would remain home for life.