Reyn of Green Reysk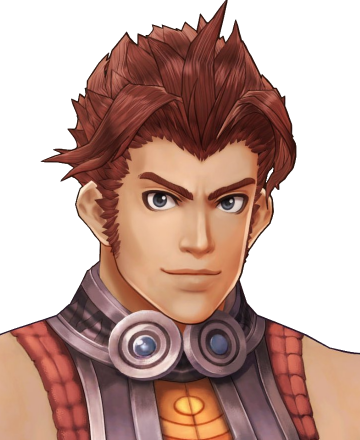 "Yeah, now it's Reyn time!" - Reyn, Xenoblade Chronicles
BASICS
RETIRE INFO:
Retire
NAME:
Reyn
GENDER:
Male
PRONOUNS:
Masculine
ORIENTATION:
Biromantic Bisexual
BIRTHDATE:
Summer 2750
AGE:
20 as of Late Fall 2770
LOCATION:
Fort Weyr
OCCUPATION:
Wherhandler
WING:
Dawn Squad
APPEARANCE
EYES:
Blue
HAIR:
Red
HEIGHT AND BUILD:
6'3" and Muscular
PLAY-BY:
Reyn (Xenoblade Chronicles)
FULL APPEARANCE:
Reyn has spiky red hair and somewhat caterpillar-like eyebrows that are angled towards his nose. He has a muscular build with tan skin. He often wears warm colors in his clothes, which are often sleeveless shirts and long pants in the warmer months.
PERSONALITY
PERSONALITY:
Reyn has a strong heart. His main goal in life is to protect others, which was why he was happy to become a candidate when he could. While he is not the brightest, he knows there is a time and a place to being silly. If he feels that he needs to be serious, he will be. He is a good friend to those he cares for, often going to encourage them and cheer them on when they are down.
He is also very emotionally charged and thus, can lose his temper at times. If he gets frustrated, he will sometimes shout angrily at the person who angered him. He can also rush into battle without others in his group if he's frustrated or angry. Thus, this can cause for both him and Reysk to get injured more often. This also causes some doubt in his abilities. What if he ended up causing too many problems by being angry and rushing through in battle?
Otherwise, Reyn is a good friend to a lot of people he meets. He often acts as sort of a big brother figure, wanting to encourage others in anyway he can. He is also very fond of food and enjoys eating seconds when he can.
HISTORY
FAMILY:
Vangarre of Blue Garresk: Father Figure
SIGNIFICANT OTHER:
N/A
BIRTHPLACE:
Telgar Weyr
HISTORY:
Reyn lived a pretty normal life. At a young age, Reyn's parents died and a close friend of their's, Vangarre, decided to look over Reyn. However, as Reyn never really knew them, he had always accepted the older man as his father. He loved playing with the other kids in the weyr and he especially loved watching his father and the other wherhandlers train. He decided he wanted to be a wherhandler at a young age. His father encouraged him and believed that Reyn would be a good fit as a wherhandler. However, he also mentioned that Reyn may also do good in a wing and encouraged him to enter candidacy when he was old enough for a dragon and see if he can impress one.
At the age of fifteen, Reyn had entered candidacy. However, he had no interest in impressing to a dragon. He attended the hatchings, cheering on his friends and former fellow candidates as they impressed. As three years passed, eventually Reyn was able to sign up to become a wher candidate. There was a hatching soon and he was excited.
When the wher egg was moved to him, a very large green wherling had hatched. She was as big as a blue who had hatched from the same clutch, Reyn remarked. This wherling was named Reysk and the two shared a close bond.
For two years, they trained in Telgan Weyr under his father. As his wherling years came to an end, he and his father noted that Reysk was a bit bigger than Garresk, the blue wher that his father handled. As the days grew closer to when Reyn would graduate, he had made a decision. He wanted to transfer to another wher and explore the world. After speaking with his father, he decided to transfer to Fort Weyr.
He has only recently arrived at Fort Weyr with Reysk and he's ready to see what the world has for him.