Loqi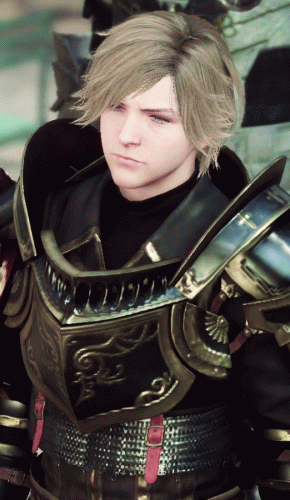 "lyrics or quotes here"
BASICS
NAME:
Loqi
(pronounced like "Loki")
GENDER:
Masculine
PRONOUNS:
Masculine (he/him/his)
ORIENTATION:
Bicurious
BIRTHDATE:
Early Winter 2742
AGE:
31 as of Late Fall 2773
LOCATION:
High Reaches Weyr
OCCUPATION:
Wingrider
WING:
Starfall
APPEARANCE
EYES:
Pale Blue
HAIR:
Sandy Blonde
HEIGHT AND BUILD:
5' 5" || lean
PLAY-BY:
Loqi
Tummelt (FFXV)
FULL APPEARANCE:
Loqi
is rather short for a man, standing at about 5' 5" tall. No, he is not pleased in the slightest. As a result, his build tends to be lean, even while muscular from Turns of dedicated dragonrider training; his skin is slightly tanned for the same reason.
Loqi
has fine sandy blonde hair, often swept back from his face in its natural waves.
Loqi
's eyes are pale blue, and as cold as Telgar's icy mountains. When it comes to his wardrobe,
Loqi
prefers functionality over fashion. As such, he's most often seen in some sort of attire suitable for flying at all times, unless E'tria can cajole him into wearing something with a little more color for a special occasion. The only colors he will wear without hesitation or question are the colors of High Reaches Weyr. In addition,
Loqi
's dominant hand is his left, rather than his right.
PERSONALITY
PERSONALITY:
To begin,
Loqi
is a rather arrogant and proud young man. Born of High Reaches' finest, he's proud to be bred of the Weyr. If someone should speak ill of High Reaches, he is quick to jump to the offensive. No matter what others say or even what he himself thinks, High Reaches is his home, and there is nothing he wouldn't do to protect it; even give up his life. Everything he does is for the glory and honor of High Reaches Weyr, the finest Weyr of Pern, a mighty pinnacle of strength to emulate. It was what he had prepared himself from youth to do; to Impress a fine dragon and train to fight in Golre's name.
Ever since Golre's downfall, he has felt bitter and resentful of Fort's meddling, and greatly dislikes anything to do with Fort. Who does Fort think
they
are, to take High Reaches' independence? And to accuse the honorable High Reaches of
theft,
for that matter. While it isn't often that he'll verbally state it,
Loqi
views those who are not Weyrbred as lesser, unfit to even lay eyes on a dragon -- let alone be welcome to Impress! It often shows in his expression what he thinks of a person, if what he thinks of them is disgust or dislike, even though he taught himself from youth to mask -- or rather
smother
-- his emotions.
Loqi
is very brash and often reckless, even though he strives to think logically. Yet all sense of logic, tact, and reasoning is cast aside the instant a challenge is issued.
Loqi
is the sort of man to take an insult personally, and he'll hold a grudge until the day Thread takes him or the source of his ire. To outsiders or strangers,
Loqi
is cold and even somewhat hostile, considering them to be intruders to the sanctity of High Reaches Weyr. Even those familiar to
Loqi
might find him aloof and distant.
Loqi
allows few to draw close to him, and fewer still are permitted to see beneath the surface that makes up
Loqi
.
Despite his upbringing in Golre's High Reaches, he is deeply fond of his dragon, Tsumarith, and has long since overcome all sense of disgust for his bonded over the predicament of his white hide. While he'll never admit it aloud, he is very fond of his weyrmate, E'tria. For her, he would fly to the ends of Pern and back again, should the need arise. In addition,
Loqi
is a very private man with few he considers friends, and finds social situations somewhat awkward. But would one glean that from the way he speaks and carries himself, so proud and strong? Most likely, no.
Loqi
is very careful to keep up the appearance of being the ultimate dragonrider, and will accept no criticism otherwise.
HISTORY
FAMILY:
Parents - both dragonriders - unknown -
open tie(s)!
Siblings/Half-Siblings - none as far as
Loqi
's aware -
open tie(s)!
SIGNIFICANT OTHER:
E'tria of Green Yserath
BIRTHPLACE:
High Reaches Weyr
HISTORY:
Loqi
was born to a pair of dragonriders amidst flightlust. As such, he's never been certain of his parentage, nor did he care overmuch. Turned over to the creche by his mother shortly after his birth, the boy was raised in proper Traditions in a Weyr under Golre's rule.
Loqi
grew up to be a cool young man, completely devoted to his Weyr. As such, little passed his notice, and no hesitation or mercy was afforded a rival. On many instances, Candidates were reported for some infraction or another, at
Loqi
's initiative.
Loqi
was but one of many children born and bred for the life of a dragonrider...only he took it much more seriously than others might.
Loqi
distinctly frowned upon Candidates coming from outside the Weyr; dirty farmers didn't deserve to even lay eyes upon the might and majesty of a dragon! Yet he did as he was bid by his superiors, all for the good of High Reaches.
It was expected of him to Stand for Candidacy as soon as he was of age, and he would not let his superiors down. As he signed up for Candidacy at fifteen,
Loqi
swore he would not Impress some pathetic beast such as a green or -- Faranth forbid -- a white. Only the best befitted a young man such as himself; bronze was the only option. During Candidacy, he met a young woman by the name of Ekatrialle, a fellow weyrbred Candidate. An odd accord was struck between them, and she proved to be his only companion all throughout Candidacy. Yet when Ekatrialle Impressed green while
Loqi
was left Standing, he turned his back on her. Such a fine young Candidate such as himself wouldn't be caught engaging with some green-weyrling.
Never.
Loqi
continued to Stand, only to be left Standing again and again. As a result,
Loqi
grew increasingly more volatile and hostile. What was wrong with him that made every bronze look to another Candidate? None of these other Candidates were as worthy as he!
When Golre fell in 2761 in her valiant fight against Fort,
Loqi
was among those who grieved her passing and all she represented. And when Fort came and tried to destroy all Golre had built for her people? That was an intolerable offense.
Loqi
proved difficult to even hold conversation, and resistant to the changes befalling High Reaches. Yet he continued to Stand for hatching after hatching, even after Fort established its presence and its people in command over High Reaches.
Loqi
was determined to stay strong and resist Fort's influence. One day, those loyal to High Reaches and the memory of Golre would rise up and take back their home. And
Loqi
would be among them, astride a bronze of his own. Yet a scrawny white had other plans for him.
Loqi

...
the white's flat voice spoke in
Loqi
's mind, much to his horror.
I am confused. I do not know what I am supposed to do... Do you think they will be disappointed in your Tsumarith?
After five Turns spent in Candidacy...
Loqi
...had Impressed...to this white.
A
white.
As tempting as it was to reject this Tsumarith flat and direct the beast to who was
supposed
to be his bonded,
Loqi
knew that it was too late. The bond of Impression was made; only death would separate them. All his aspirations of riding bronze were swept to the dirt in an instant; his whole life deemed a waste. Swallowing his disgust for the time being, he directed Tsumarith off the Sands, to feed the dragonet in haste so
Loqi
might escape the eyes upon him; eyes he was certain were filled with scorn, mockery, or even pity. Weyrlinghood was a trial.
Loqi
could hardly stand to look upon the white he was bonded to, horrified every single day that the fine Candidate he was had been reduced to nothing but a whiterider. What would Golre think of him? Despite
Loqi
's feelings, Tsumarith was a loyal and devoted partner...and while it took the entirety of weyrlinghood and several Turns after,
Loqi
began to think of Tsumarith not as "the white" but rather
"his
white." While it was difficult,
Loqi
learned to overlook Tsumarith's color and rather focus on his personality and his traits, and he accepted Tsumarith at last.
After this critical milestone had been achieved,
Loqi
and Tsumarith blossomed. It was clear why Tsumarith had picked
Loqi
; they were a driving force in the wings together, and nigh unstoppable. While
Loqi
was undeniably a product of Golre's High Reaches, the bond between this man and a white dragon was strong; a fine example for the next generation to look upon as a well-matched whitepair. It was around this time that
Loqi
reunited with E'tria. In the beginning, interactions with her were...shaky, to say the least. It wasn't easy to forget
Loqi
's behavior in Candidacy, especially as some of those traits were still present to this day. Yet something kept drawing
Loqi
back to E'tria, no matter how many words were flung in the heat of argument. It wasn't until E'tria and
Loqi
were caught up in a bout of flightlust-driven antics -- even if Tsumarith didn't chase Yserath -- that what they had was clear. Though they had a rocky beginning, the bond
Loqi
and E'tria shared was deep and powerful; strong enough to brave everything thrown at them.
In 2770, news got out that a Fortian garnet had lost her clutch; her two eggs were stolen! Despite the fact it was Fort that had fallen prey to theft,
Loqi
still felt disgust for the perpetrator of such a heinous crime. Who would think to do such a thing to a Weyr? Even so,
Loqi
couldn't help but criticize Fort. What Weyr would let someone drug a dragon and make off with her eggs? Obvious security measures were being neglected for such an incident to occur. A part of
Loqi
even felt glad that Fort had suffered such a thing. Think of it as retribution for what they'd done to High Reaches; what had once been a glorious Weyr, and the mightiest of all Weyrs. But
Loqi
was certain High Reaches was not to blame for the theft. Even under the control of Fort and its influences, High Reaches was still a most honorable Weyr. But with the mysterious appearance of two eggs on High Reaches' sands — eggs that promptly hatched and Impressed — the fingers of blame were turned on High Reaches.
Loqi
was incensed and outraged. How
dare
those ignorant fools proclaim those of High Reaches Weyr to be nothing but dirty thieves!
Loqi
was near certain that the tensions would escalate into war, and he welcomed it. Those filthy Fortian rats would
not
insult High Reaches and pass unscathed! Even when the true culprits — Majima and his criminal network, along with some dragonriders he'd manipulated to aid him in his criminal activities — were discovered and punished,
Loqi
still holds such bitterness in his heart for Fort, perhaps even hatred.
A short time
Loqi
and E'tria decided to come together as official weyrmates, the next development had
Loqi
's world rocked to its core. After another tryst in the throes of mating flight, E'tria was with child...
Loqi

's
child. While he wasn't entirely certain how best to respond, he knew what he must do in the long term: he would stay at his weyrmate's side for as long as she would have him, and follow her wishes in regards to this child. If E'tria wished to see the child off to the creche and have nothing further to do with it?
Loqi
would see it done; he preferred that route, even. But if E'tria wished to be a major part of the child's life?
Loqi
would do his best to serve as partner...and even father. Though he'd never admit it, the prospect of even this small measure of parenthood frightens
Loqi
on a core level...yet he'll face it like all challenges placed before him: with great dignity, honor, and pride — all befitting a dragonrider of High Reaches..
UPDATES