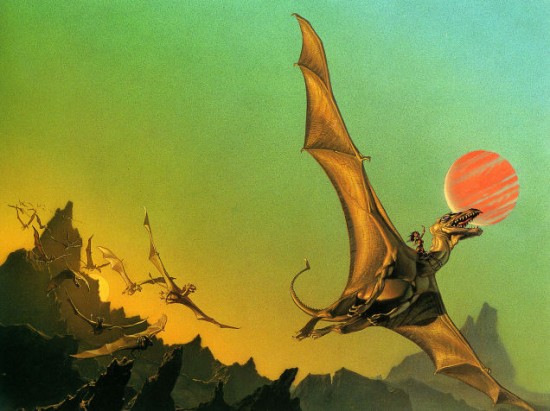 -✵ ━━━━━━━━ ✵- Pern -✵ ━━━━━━━━ ✵-
In the Sixth Interval, a strange object fell to pern and strange people came with it, Ja'kar: a reptilian race and the Elvari: a species of 'space elves'. A war underwent Pern for nearly the full interval before an Elvari riding a Gold dragon took it upon herself to cripple the ships. She did so but in the war, she lost her life. Eventually things settled and P.E.R.N. returned to normal... Thread fell and the dragons rose to fight their foe. Until all but one weyr was left. When the 9th Pass came around everything happened as we'd remember it but the Red Star was not one to be tamed. No, it did not work out as they had planned and with a shift in the orbits, it only made Thread Fall last longer with even shorter intervals... And with the latest interval quickly coming to an end, our story picks up at High Reaches Weyr where the miners are going missing...
OOC Info
We are rebuilding the old site but are welcoming new and returning players as we Open again! We are looking to fill ranks and are also seeking staff members to help us keep plots moving and "DND" styled events going! We are an LGBTQ+ friendly site with no sexuality or gender based impressions, with heavy plots with rewards! Come join the fun!
-✵ ━━━━━━━━ ✵- Features -✵ ━━━━━━━━ ✵-
・A chill drop-in/drop-out roleplay community based around the series "Dragonriders of Pern."
・A plot-heavy story line.
・Dice rolling for eggs and clutches for a variety of outcomes.
・A variety of Leadership Positions Available.
・Adoptable dragons and Whers.
・Professional staff.
・Impressions are not sexuality based.
・NPCing characters is completely acceptable as well.
・We offer different types of Wherries; standard, fancy, war and pygmy!
・Spring is drawing to a close with summer bringing the heat to High Reaches!
・The warmth of Spring opens up to summer and Threadfall......
・Giant worms have attacked the Weyr leaving many injured and a new hot spring under High Reaches Weyr!
・The Sr. Queen Rayneth rises! Who will win the bid for Weyrleader?
-✵ ━━━━━━━━ ✵- Come join the world of Pern today! -✵ ━━━━━━━━ ✵-
Forums
Discord