KAELI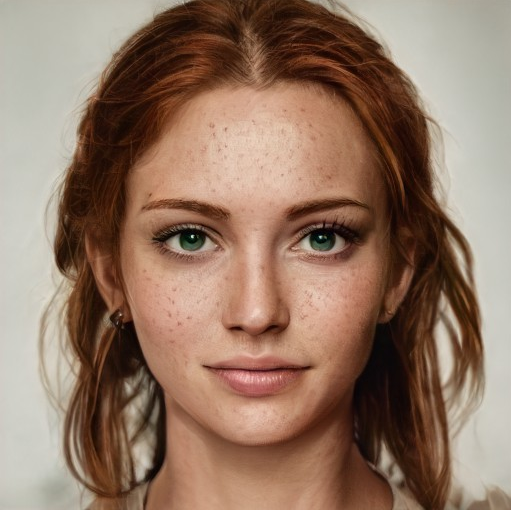 "We have to go check that out!"
BASICS
NAME:
Kaeli
GENDER:
Female
PRONOUNS:
She/her/hers
ORIENTATION:
Uncertain, possibly pansexual
BIRTHDATE:
Late Spring 2743
AGE:
29 as of Early Spring 2772
LOCATION:
Fort Weyr
OCCUPATION:
Whiterider
WING:
Aurora Wing
APPEARANCE
EYES:
Green
HAIR:
Red
HEIGHT AND BUILD:
5'3", slim and fit from plenty of physical activity
PLAY-BY:
Artbreeder
FULL APPEARANCE:
Short in height and slim in stature, Kaeli might be small, but she is still a force to be reckoned with. Every ounce of muscle on her frame has been won through turns of hard physical work and adventure, an overwhelming urge to be independent from tall people, and a love for the rough and rugged parts of Pern many don't want to deal with. Because of her love for such parts, she is often seen sporting mud, dirt, branches, and leaves--often in her hair, on her face, and on her clothes.
Her eyes are a bright and curious green and never seem to stop taking things in. Her hair, often braided into one or two lengths depending on her mood, reaches the middle of her back and is a ginger-red color. Naturally, to complete the look she is covered head to toe in a healthy smattering of freckles, darkened by her time spent outdoors. Her default and most common expression is a wide, friendly smile.
PERSONALITY
PERSONALITY:
Nothing in the whole wide world of Pern brings Kaeli joy like adventure and the outdoors. She strives to be in fresh air as much as physically possible, whether it is wet and cold out or blistering hot. There is always something interesting to see or do, from riding the skies with Ikoth to watching ants harvest some sprinkled bread crumbs. She holds a certain fascination for all life that she often feels cannot be matched, though Ikoth's love of adventure certainly comes close.
And with as much as she loves to be outside exploring the world, Kaeli tends to be...forgetful. She will often get so wrapped up in whatever bug she's watching or the way the clouds move that she forgets what she should have been doing. The one exception, naturally, is Threadfall; otherwise, her mind is often wandering and drifting to the next fun thing that crosses her path. It can be difficult for her to complete time-sensitive tasks because of this, and it doesn't help that she can also be quite impulsive, following whatever catches her attention or trusting whoever approaches her without thinking about the consequences.
Fiercely loyal to those she considers friend and family, happy at all times, bubbly and energetic... Some might find it hard to find fault in Kaeli outside of her cloudy head. The truth is, negative emotions terrify her, and she goes out of her way to avoid them. Sadness is an affliction she wants nothing to do with, and other unpleasant feelings have no place in her life. This leads to her straight up avoiding unpleasant situations where she can, to the point of just walking away mid-conversation. Whether she's aware of it or not, all negative emotions are bottled up and shoved way, way down where she doesn't have to acknowledge them.
HISTORY
FAMILY:
Mother - ?
Father - ?
Siblings - ?
SIGNIFICANT OTHER:
None yet
BIRTHPLACE:
Minor cothold beholden to Southern Boll and Fort Weyr
HISTORY:
Kaeli was born the product of a mating flight her parents got caught up in, neither a dragonrider but both open and willing to the sway such a thing could have on people. Because she was unplanned she was left to a small local creche, which never bothered her much; she was always a very outgoing and friendly child, willing to make up stories and play adventures with whoever looked like they needed a friend.
Part of her always wondered who her parents were, but she never asked and was never told. It became a fact of life that she was not quite an orphan, but not quite belonging to anyone, either. Instead, she put her mind to seeing the creche as her family, and that helped her keep any sad emotions about her birth family at bay. Sometimes she felt that if they didn't want her, she didn't want them either! But it definitely left her with a feeling of never quite being in the right place. This only encouraged her adventurous nature.
As soon as she was old enough to stand as a candidate, Kaeli decided she was going to do just that, whether she was Searched properly or not! ...Fortunately for her, as she traveled with some traders from her cothold towards Fort Weyr, she actually
was
picked up on Search. She was a whopping 15 at that point, determined to get what she wanted and have all the adventures life promised.
Of course, it wasn't as easy as deciding you wanted a dragon and then getting one. It took four turns of clutches for Kaeli to finally Impress to white Ikoth, one of a pair of twins, who loved adventure and cherished family like she did. It was miraculous enough that Green Quth's clutch had hatched at all, but she wasn't going to question it. She had Ikoth.
Life did not prove easy in Fort Weyr, not in the beginning. With Fort Hold withholding tithes and rebelling, Thread falling, a plague, and the thread of execution on the head of Ryodath's rider, it was a constant, never-ending struggle to keep her morale up. It became a matter of her dragon's health for her to keep the stress and negativity away; if she could not do it for herself, she would do it for him.
While there has been no true peace, Kaeli had pushed forward with unwavering optimism. Life is full of the adventure she craved, just not in the form she imagined. The best she and Ikoth could do is take each day as it came.