TIKAYA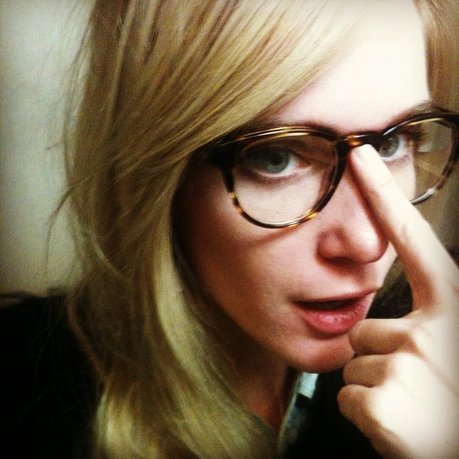 Language shapes the way we think, and determines what we can think about
BASICS
RETIRE INFO:
Character: Retire / Wher: Adopt
NAME:
Tikaya
GENDER:
Female
PRONOUNS:
She/her/hers
ORIENTATION:
Heterosexual
BIRTHDATE:
Late Autmn, 2737
AGE:
30 as of Early Spring 2768
LOCATION:
Fort Weyr
OCCUPATION:
Squadsecond
WING:
Dusk Squad
APPEARANCE
EYES:
Grey
HAIR:
Blonde
HEIGHT AND BUILD:
6', angular
PLAY-BY:
Catherine Parkinson
FULL APPEARANCE:
'Coltish' often describes Tikaya in a word; she is angular and awkward in her movements, having never outgrown clumsiness; she is small-chested and tends to walk with her head turned down to minimize the height. Large spectacles are perpetually found perched upon her nose, as she can't do very much without them. Her hair is a straw blonde, long and straight, with tapered edges. Her skin is fair but freckled.
She tends to dress in light colors and flowing clothing, but aims for either flip-flop sandals in hot weather or practical boots in all other seasons. Having joined groundcrew, she's gained some upper body strength, but Tisk is very much still the brawn of this operation.
PERSONALITY
PERSONALITY:
Tikaya, for most of her life, was an academic above all things; studying history and culture and whatever other fascinations of a Harper-type that went past her. Language is a passion and a skill of hers -- she is fluent in PSL and talented at narrowing down people's origins based on accent (and sometmes picks up the ability to mimic said accents).
So essentially, she is a nerd, but she's proud of that nerd-dom. She's smart, she knows it, and while she downplays it she strives to keep up that intelligence. Impressing Tisk has also forced her to pay more attention to the activities of Threadfall than that of her craft and her academics; while Tisk is also a very valiant research partner, Tikaya has learned to care more about structure and camraderie since joining Dusk Squad. She has generally expanded her focus from just academics to the rest of the world mattering -- generally, but gradually -- since coming to Fort Weyr overall. Some of her nerd tendencies have become subsumed into squad-planning sorts of things like sketching out formations. She focuses to the point of hyperfocus very easily, and therefore is something of a workaholic when it comes to planning, always trying to take on another project when she's finished a previous one.
She's good natured and friendly without being too great at engaging people, an introvert who likes the idea of having several close friends but doesn't really want a lot of connections and is definitely afraid of being the center of attention. Doing her job right is very important to her, and getting things done, and ... well, she has a penchant for wanting to solve mysteries and poke her nose where it doesn't go just to solve puzzles and figure things out that
hasn't
been tempered as much by Impressing Tisk.
Actually, Tisk makes it a little bit worse.
They're quite a pair.
HISTORY
FAMILY:
Mother Mela, father Loilon, cotholders; unnamed older and younger brothers, beastcrafter; nephew Lonaeo, child
SIGNIFICANT OTHER:
None
BIRTHPLACE:
Ista Hold
HISTORY:
Tikaya was born at the family's farming cothold outside Ista, and had an unremarkable middle-child's childhood. She showed interest in puzzles and cryptograms and playing with words and letters early on, and
didn't
show much of a fitness for farming, between a thin-boned body and very poor eyesight. The decision to apprentice her off to Harper was therefore an easy one, and Tikaya moved to Harper Hall at twelve.
She excelled at just about every aspect of her education
except
music -- she has absolutely no singing voice to speak of and very little sense of pitch, and her only sense of rhythm is down to drumming and dancing, both of which she is average at -- showing prowess for the academic side of Harpering primarily. Tikaya would have made a bad legist because of shyness with public speaking no matter how hard they tried to train it out of her; she would have made a terrible spy because of being both clumsy and somewhat unaware of her surroundings hen focused on a particular thing.
But she made an excellent academic, and continued to study and write about and eventually
teach
history, language and basic mathematics. Her Journeyman's knot came at twenty, along with an engagement to a fellow Harper that was broken two turns later over petty academic competition. At this point Tikaya moved to the Weyr to teach history to its children and study Fort's archives -- and keep an eye on, and report back on, the Peacekeeper weyr's political upheavals.
Being at the Weyr had something of an impact on Tikaya's awareness of life going on around her, and the horrors of Thread that she'd remained highly oblivious to for most of her life due to her gift-slash-curse of hyperfocus. Something within her inspired her to volunteer to put herself forward for wher eggs; she never thought anything would come of it.
And then, one day, when she was twenty-seven, it did. The blue was small out of a small egg, and maybe a little stubby around the edges, but he was beautiful; his mind suited hers and as he licked blood from her palm she found that what others had told her was clearly a bad idea was far from it. Tisk, as he called himself, was perfect, and Tikaya threw herself into wherlinghood and handling with that same drive.