SINDRE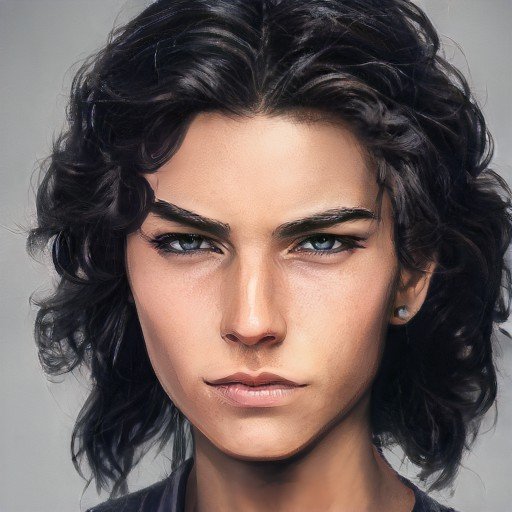 "Wait, what did she say about him? No, you have to tell me!"
BASICS
NAME:
Sindre
GENDER:
Male
PRONOUNS:
He/Him/His
ORIENTATION:
Pansexual
BIRTHDATE:
Late Winter 2750
AGE:
21 as of Late Winter 2771
LOCATION:
Fort Weyr
OCCUPATION:
Weyrling, kitchen helper, baker
WING:
N/A
APPEARANCE
EYES:
Blue
HAIR:
Black, soft, and so well kept it's ridiculous
HEIGHT AND BUILD:
5'10, slim
PLAY-BY:
Artbreeder
FULL APPEARANCE:
Sindre is not built like your traditional Dragonrider. He lacks the obvious strength and well-trained physique of someone who works hard day in and day out, even though he is no slacker. That is not to say he has no muscle at all; he is a thin and wiry sort, naturally lean, seemingly lacking the ability to build bigger more obvious muscles. He is just fine with that.
His appearance is fastidious in every aspect. He seems to have a knack for never having a hair out of place, and loves to spend hours on his grooming. His nails are always clean and short; his hair is lovingly cared for, inky black and often pulled back into a ponytail; his clothes, while sometimes dirtied from work or covered in flour from baking, are otherwise immaculate if he is in his free time. He is quick to smile, expressive with his face, and adores his bright blue eyes more than any other feature.
PERSONALITY
PERSONALITY:
Above all, Sindre is a social butterfly. He loves nothing more than to talk to people, hear their stories, and just interact with them. People are his favorite of all things on Pern, and isn't it so much better to live life with others than apart? Everyone has a different view on the world, and Sindre wants to hear it all! And if they don't want to talk opinions, that's okay too. He loves to flirt, gossip, hang out, chat, tell stories--you name it! As long as he has company, he is happy.
Of course, the opposite of that is that when he's alone, he is not very happy. He does not handle his own company too well, and relies on the company of others to keep him going. It is not uncommon for a Sindre left to his own devices to quickly become despondent, needy, clingy, demanding... It is very easy to consider Sindre a brat, especially when he starts to act entitled, tries to get his way, and--yes--even throws full on adult tantrums at times. Is he embarrassed? No, why should he be? It's not his fault everyone abandoned him, in his opinion!
As much as he is so friendly and sociable with others, it does lead to some trouble. Aside from being absolutely terrible on his own, he craves romantic contact with people and then becomes quite jealous and possessive of them. He does not like to "share" people, even sometimes including his friends; what's his is his and you can get your own, thank you very much! He loves the people he considers "his" and spoils them endlessly, but he really doesn't like if their attention strays too much.
To try to keep the attention of those he cares for, he makes himself available at all times. He bakes and cooks the best of treats for his friends and loved ones, will provide advice and pampering (whether they asked for it or not), and will fiercely defend them no matter the cost to himself. He enjoys making people laugh and feel good, and anyone who takes that away from them deserves to pay!
Jealous, possessive, bratty, demanding... Despite all these, Sindre does care. He just has high standards--both for himself and for others. He expects the same level of devotion from others that he gives to them and is let down when he doesn't get it, often leading to rocky relationships. It doesn't help that his vanity often extends beyond himself and he tries to "fix" the way others dress or wear their hair, but again, he just cares! Or so he claims!
HISTORY
FAMILY:
Mother - Baker - Alive
Father - Herder - Alive
SIGNIFICANT OTHER:
None yet. Interested?
BIRTHPLACE:
Cothold beholden to Fort Weyr
HISTORY:
Born to a minor cothold protected by Fort Weyr, Sindre grew up knowing work as the normal day-to-day. His father spent his days with the herdbeasts, and Sindre--for the first few Turns of his life--was raised with the other children in the cothold. He was always social, friendly, and outgoing, even if he was particularly prone to tantrums. If his methods of getting what he wanted didn't work--batting his eyelashes, nice words, acting sweet as sugar--he was quick to flip and turn on the person who denied him. It wasn't much worse than any other child who was told no, but he certainly did not care for the word unless he was the one using it.
As he grew, Sindre maintained his social desires, but was also quickly attracted to his mother's craft of sorts. She was just a simple kitchen maid herself, most often working to bake breads and rolls and tarts to sell. Sindre, a child with a massive sweet tooth, especially took a liking to the different small treats and cakes his mother could make, and from a young age expressed an eagerness to learn how to make them himself. It surprised no one who knew the child that he should continue to grow and practice this, becoming an unofficial apprentice to his mother.
Sucking up all knowledge he could of baking as well as cooking, it was easy for him to make a natural place for himself in the bakery and in the kitchen. He was a quick learner with a keen tongue for flavors, and he was just as happy working over a hot pot of stew as he was with a crowd of fellow youngsters. His social interests grew with his love for cooking and baking, and truly he could not choose one over the other; as he came of age he courted and conquered people as he tested and mastered new recipes.
Of course, he expected life to continue in that vein until he finally found someone to settle down with, but that never did quite happen. His jealousy and clinginess in relationships tended to push people away after a time, and he found it difficult to keep a romantic relationship through his attitude. He tried to tell himself this was all fine--they just didn't understand, they weren't the right one--but it bothered him deep down. His vanity and excessive cheer were at times just a mask.
It wasn't until Sindre was Searched in 2770 by a Dragonrider that he ever considered the idea of leaving home. He'd always thought he would be living in his little cornhole, helping his mother and starting a family there. But really, when the dragon and their rider gave him the option, how could he have ever said no?