Lelouch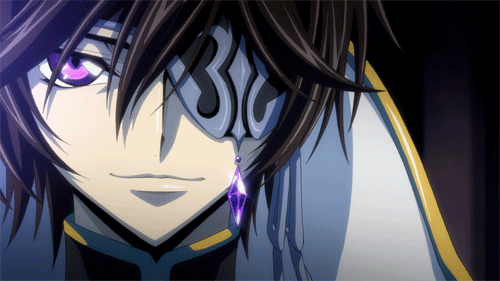 "The only ones who should kill, are those who are prepared to be killed."
BASICS
RETIRE INFO:
Retire
NAME:
Lelouch (AKA "Lulu")
GENDER:
Male
PRONOUNS:
he/him/his
ORIENTATION:
bitter gay
BIRTHDATE:
Early Winter 2747
AGE:
23 as of Early Spring 2770
LOCATION:
High Reaches Weyr
OCCUPATION:
Dragonrider/former political prisoner
WING:
Firestorm
APPEARANCE
EYES:
Black, looks raveny-purple in intense light
HAIR:
Black
HEIGHT AND BUILD:
5'10", spindly as hell
PLAY-BY:
Lelouch vi Britannia
despite the fact that the first gif is of Julius but shhh
FULL APPEARANCE:
A tall, thin, and pretty boy all over. Lelouch looks like he should be some sort of glorious royalty, or maybe he's some strange model. Surely light and hope and wonderful things follow him wherever he goes. Well, not so much. He is one pretty, pretty boy, yes. His hair is straight, flat, and almost always looks like it needs a trim in back. It's black, and bright lights make it look like it's some maroon-brown. He keeps it well kept, along with the rest of him. No part of his attire is not elegant, even the patch that covers his bad eye is fancily embroidered with a little pink crystal that hangs from it. It serves no function other than to be pretty and he is very aware of it.
Lelouch... is not athletic. He looks like maybe he could be with how long his legs are and how lean he is, but he probably would break all of his bones if you asked him to catch anything heavier than an apple. He can't sprint more than a few paces before he gets winded, like, hands on his knees and panting sort of winded. It's pretty pathetic. Lelouch also tends to favor his left side, for obvious reasons. He is mostly blind in his left eye, and when his eyepatch is off, he notably favors that side, and gives himself a wide berth to pass anything on that side.
Due to a threadfall injury, Lelouch has lost all use of his right arm, and keeps it in a sling to keep it from causing problems.
PERSONALITY
PERSONALITY:
A manipulative, clever bastard who is not afraid to use people to achieve his goals, Lelouch is dangerous. He has a fine way with words, and he is incredibly charismatic. He has a charming way about him, taking care to present himself as this pretty, elegant, and wonderful person that seems to just attract people to them. He is very good at what he does, and he has no less than four or five plans in motion at once. He is a chessmaster to the core, keeping every option open with no regrets. Or, very few regrets. He seems what a perfect dragonrider should be, and one day he'll have a dragon to go with this personality.
Lelouch's heart may be bitter and cold, but he is ready to tear Pern apart and rebuild it to make sure that it becomes a world that will be worthy of his sister's smile. Lelouch has an utter hatred for Lord Holders and anyone of some perceived 'royalty', despite being the child of a Lord Holder himself. Only the dead can judge them, and he will absolutely stare down the Red Star as he walks backwards into
Between
.
Romantically, he's got an eye for his childhood friend. Though he has no problems manipulating and flirting with others, well, he's got a bad track record of pretty much everything. Sure, even he will use Suzaku to further his means... but he does love him.
HISTORY
FAMILY:
Nunnally [little sister], Lord Harel [minor cothold in High Reaches], several estranged siblings
SIGNIFICANT OTHER:
Suzaku
BIRTHPLACE:
minor cothold beholden to High Reaches
HISTORY:
The war was... unkind to Lelouch.
At a young age, in a horrific accident involving exploding firestone, Lelouchlost his mother and sight in his left eye. His younger sister, who was barely walking, was robbed of use of her legs and her sight, and the young boy devoted himself to protecting her. Unfortunately, his small hold had the idea that perhaps a resistance had been a great idea. To negotiate peace, Lelouch and his sister were both sent to High Reaches Weyr under the tyrannical reign of Golre and her legion.
Lelouch lived much of his childhood as a political prisoner, trapped within the walls of a Weyr he did not like and grew slowly to hate. Every effort was taken to protect his sister, and he learned very quickly that words got you much farther in life than violence. He twisted everything to his advantage, plotting and planning to lay the groundwork for revolt and revolution.
...and then not only did the war over, but Golre was slain.
A setback, surely, but in the ashes and subsequent rebuilt, Lelouch found purpose. Nunnally was safe. The boy that he had his eyes on and had made very awkward flirtatious advances at was safe. Well, maybe one day he'd actually get there and tell him, but...
Lelouch has a lot to do. There's a dragon out there for him, and then he can continue his plans. Pern needs a revolution, and he was prepared to do terrible things to make a world for his sister. Revenge will come, in time.
UPDATES
Early Summer 2765 - Impressed Gold Banshee
Late Spring 2766 - Impressed to blue-bronze Chimera, Isith
Early Spring 2768 - Disastrous Threadfall injury cost Lelouch use of his right arm, and Isith's right eye.