Connor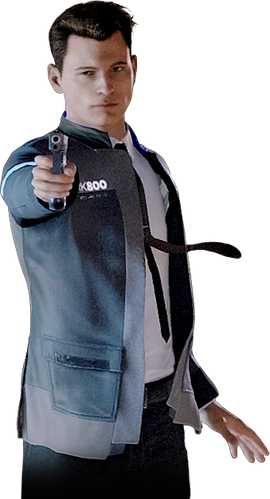 "I'm registering the evidence in my possession, but don't worry. I'm going to leave... Though I'm certainly going to miss our bromance."
-Connor, Detroit: Become Human
BASICS
RETIRE INFO:
Wher - Adopt / Retire - Character
NAME:
Connor
GENDER:
Male
PRONOUNS:
He/Him/His
ORIENTATION:
Bisexual
BIRTHDATE:
Summer 2740
AGE:
31 as of 2771
LOCATION:
High Reaches Weyr
OCCUPATION:
Wherhandler
WING:
Windsong
APPEARANCE
EYES:
Brown
HAIR:
Black/Dark dark brown, fluffy, styled
HEIGHT AND BUILD:
6", physically fit, strong
PLAY-BY:
Connor (Detroit: Become Human)
FULL APPEARANCE:
Connor is a clean-cut, attractive young man in his late twenties. His hair is always in the perfect place, his beige skin never seems to burn or change color, he is free of blemishes. He blends in perfectly with other people, yet he stands out with his cute looking face. His quiet and sort of raspy voice makes him always sound cute.
Connor wears a semi-formal looking jacket, white shirt, and dark pants. He always seems to look fancy and presentable, yet on the rare occasion, he can be seen wearing much more casual clothing, dark shirts, thick leather jackets, the works.
PERSONALITY
PERSONALITY:
As a child, Connor was a neutral, stonefaced, stonehearted man. He was put under pressure to be the best by his mother, but dropped this need as he got older. He initially judged not by status, craft, personality, familiar background or color of a dragon, but by their actions in the eyes of "the law", his own strict moral code of good and bad, right and wrong. Certain things were plain bad, and he knew that, others could certainly be seen as good. Reputations, eyewitnesses, that was how he judged others. He was, and still is, very persuasive, knowing how to interrogate someone and get to the truth of things by any means. He is smart, and the intellectual pursuits come rather easy to him.
Nowadays, he is a more sympathetic man, willing to actually meet and learn about a person himself before choosing whether he likes them or not. He is kind, he is caring, but he is not without snark. Connor may come across as either sarcastic or literal depending on his attachment to you. He has some difficulty making small talk with others, which potentially results in awkwardness (on their part). Connor has a knack for a sense of humor, can be sensitive, and can even get very emotional at times. He is scared of dying, but will do anything required of him to achieve a goal.
Often times when he is waiting or in an idle fashion, he will begin to do tricks with a lucky metallic trinket given to him by his mother that he always keeps in his pocket.
HISTORY
FAMILY:
Master Smithcrafter Connski (father, alive), Journeyman Harper Amandor (mother, alive), Conan (younger brother, alive)
SIGNIFICANT OTHER:
N/A
BIRTHPLACE:
High Reaches Weyr
HISTORY:
Connor's parents expected him to do great things. Connor's father expected him to follow after him in his footsteps, his mother expected him to reach the highest position possible in High Reaches. Connor, on the other hand, had no real ambition other than to impress his parents, namely his mother. While his father had some authority over him, it was more his mother who told him what to do.
When Golre declared High Reaches the Peacekeepers, when people began fleeing for Fort, his parents, thinking themselves too important to die, fled to Fort as well. This was fine to Connor. While his candidacy grew less cushy without his mother's protection, he was twenty, he was going to age out within a few years. Nothing like that mattered much when all the dragons, and eventually whers, passed you over.
A year passed, and in that time, Golre fell. His parents never returned, but, he never aged out of candidacy, they changed the aging-out limit on him. But, that didn't mean much. The task that his mother had given him, he wanted to opt out of on his own terms, as his mother didn't matter to him anymore. Therefore, he dropped out of candidacy. She had left, he was able to be his own man. His time was spent making friends, living on his own terms, acquiring a big and fluffy canine, becoming someone good rather than someone important.
Walks on the paths outside of High Reaches in the summertime two years later brought him to his companion, his partner even. A blue wher, a large blue wher, a somewhat gruff and angry blue wher. Feral? Apparently not, not fully. Andsk's former handler had died, the terms of death unshared to the former candidate. But, as Connor made his way to leave, to turn back to his home, the wher stopped him. The man was confused until the wher approached him and bit him on his exposed arm, drawing blood. Still slightly confused, as well as in discomfort from the bite, Connor left for home. The wher followed him back, back inside the weyr, and refused to part with him. Taking on the name of Andorsk, it was sure that the wher had bonded to the man.