Candidate Oscar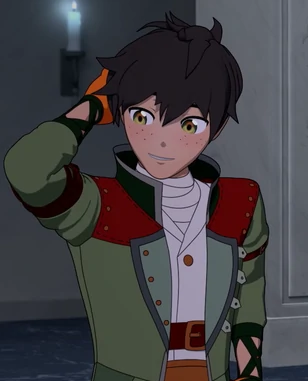 "My past is not today." - Sunset Shimmer (Equestria Girls)
BASICS
RETIRE INFO:
Retire
NAME:
Oscar
GENDER:
Male
PRONOUNS:
Masculine Pronouns
ORIENTATION:
Demiromantic Demisexual
BIRTHDATE:
Spring 2755
AGE:
Fifteen as of Late Spring 2770
LOCATION:
High Reaches Weyr
OCCUPATION:
Weyrling
WING:
N/A
APPEARANCE
EYES:
Hazel
HAIR:
Black
HEIGHT AND BUILD:
5'2" and Average
PLAY-BY:
Oscar Pine (RWBY)
FULL APPEARANCE:
Oscar often has short, choppy black hair that sticks up in some places. He has tan skin and freckles dotting his face and forearms. He is usually seen in an older-looking green coat with red buttons. Under the jacket is a light grey shirt and some bandages he has wrapped around his throat and lower chest. He often wears brown pants and dark red boots. He will also be seen usually wearing orange gloves.
PERSONALITY
PERSONALITY:
Oscar is usually a calm person and a hard worker. He enjoys working on farm lands, but had always dreamed of something bigger. He works hard to improve himself and to help those in need. However, he is severely socially awkward, often going out of his way to avoid eye contact and speaking in a slow manner to avoid messing up and making his anxiety sore. He is an emphatic person and often tries to reason with people and talk to them when they're hurt. He is also a bit of a scaredy cat, jumping up at things that normally wouldn't startle someone.
HISTORY
FAMILY:
Ozpin - Father Figure
Unnamed Aunt
SIGNIFICANT OTHER:
N/A
BIRTHPLACE:
Outskirts of High Reaches Hold
HISTORY:
Oscar hadn't known his parents, as he had been very young when they died. However, he seemed to live a happy life with his aunt. The young boy would often reading after he helped his aunt with the farm work. He grew up quietly on the farm, talking and spending time with the neighbor kids when he had free time.
One day, shortly after his fifteenth birthday, a searcher was traveling through the area and saw Oscar. He believed that Oscar would be a good candidate for High Reaches Weyr and spoke to him about it. Oscar, though he would have been fine living on the farm his entire life, felt that joining the Weyr was what he wanted to do with life and, after speaking to his aunt, traveled to the Weyr to become a candidate.
Oscar was shy when he first arrived and struggled a bit with his studies. However, a dragonrider, Ozpin, noticed him struggling and offered to help him. Oscar learned a lot quicker under the other's guidance and began to view the other as a father figure, as he had never known his father.
What will fate hold for him?