Glenna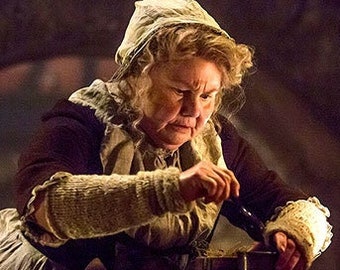 "Why are you still takin' up space in my kitchen? If you're not workin' here, be gone wi' ye!"
BASICS
NAME:
Glenna
GENDER:
Feminine
PRONOUNS:
Feminine (she/her/hers)
ORIENTATION:
Heterosexual
BIRTHDATE:
Late Summer 2708
AGE:
64 as of Late Fall 2772
LOCATION:
High Reaches Weyr
OCCUPATION:
Weyrfolk (aspires to become Headwoman someday)
APPEARANCE
EYES:
Brown, warm toffee
HAIR:
Blonde, curly
HEIGHT AND BUILD:
5' 1", stout and round
PLAY-BY:
Annette Badland
FULL APPEARANCE:
Glenna
is small and round, standing at a whopping 5' 1" in height, with a plump bodice made for giving big hugs. Her skin is a pale tan, wrinkled from age, hands calloused from Turns of working in the kitchens and at the knitting needles.
Glenna
's hair was once a vibrant blonde, now washed out with age, but still retaining much of its wild curliness. Her eyes are a dark brown, filled with motherly warmth and bountiful affection. With plenty of work to be done,
Glenna
is almost always in her standard working attire, complete with an apron and a funny little cap.
PERSONALITY
PERSONALITY:
Don't underestimate
Glenna
just because she is small and soft in body. She'll have you hopping around hard at work in a heartbeat given half a chance and a well-placed spatula.
Glenna
is a hard worker, and firmly believes in everyone pulling their own weight, herself included, and it's wrong to foist her work on others. While she can sniff out nonsense and won't tolerate it, her Turns of motherhood and life as weyrfolk have given her a well of patience to draw on when newcomers need a helping hand or time to settle in. Anyone adrift at sea,
Glenna
is their safe harbor. With a keen sense to know when something is wrong and an intense mothering instinct, she will take people under her wing until she's certain everything is safe for them to leave her protection. If anyone threatens those under her care, it may very well be the biggest mistake they ever made, for
Glenna
is a fiery and protective woman when her "young" are threatened.
When
Glenna
gets a feeling, she sticks with it, even if others go a different path. She follows her gut and her heart above all, and it hasn't failed her yet.
Glenna
has a stubborn streak wider than a queen's wings, and won't back down from anything,
especially
if her charges are in danger, even if she's in the wrong. Even a charging wher would think twice before tangling with
Glenna
in one of her fits of temper. While she is a caring person, she's not an idiot, and won't allow people to leech off her kindness. That'll just make her angry, and you
don't
want an angry
Glenna
. She can hold a grudge like a wherry holds their lunch, and can be quite ill-tempered toward those who have wronged her or her loved ones in the past. While she can learn to forgive a slight against her, she will
never
forgive anyone who harmed her family and friends, no matter how small the incident.
After Golre's reign in High Reaches,
Glenna
distrusts some riders and handlers, especially those spouting Traditions, and she does not condone attitudes of superiority in others. No one is better than another, and nothing can change that. In the past, she identified as a Traditionalist. No more. Nowadays, a gold bossing around all the other dragons is nothing but trouble, and the Council has it right.
Glenna
and her pigheaded stubbornness could very well be her downfall, in addition to her impatience. Impatience can get her into trouble, and it's likely to get worse under pressure. If you don't hand over the washing sharp, if you don't pick up your dishes, if you do this or do that out of order,
Glenna
'll tell you right quick what's simmering on her mind. Blunt with a sharp tongue, this woman doesn't take "no" for an answer. Additionally, despite her firm sense of logic and reason,
Glenna
can't help but spread around a juicy tidbit of gossip.
HISTORY
FAMILY:
A'dair
- bluerider - weyrmate - deceased
- A'kir - whiterider - son
- Ainsley - daughter
-- Laoghaire - granddaughter - 16
Isla - younger sister
- Tammas - nephew - 10
- Timmit - nephew - 8
- Tamitha - niece - 6
- Tallera - niece - 5
Murtagh - nephew - 52
SIGNIFICANT OTHER:
Open, but not really interested
BIRTHPLACE:
High Reaches Weyr
HISTORY:
TW: death, grieving
Glenna
was born to a busy pair of riders, the first child of the family, followed by sister Isla many Turns later. Raised in the creche, but remaining in close contact with her parents, she grew up with a healthy devotion to serving her Weyr. As soon as she was able, she signed up for Candidacy at age 15. She was still Standing when the Interval War began, when she was 22 Turns of age, and Golre with Vyzeth became the Senior Weyrwoman shortly after.
The Mad Golds lived up to their name, declaring war on Fort Weyr and disrupting hundreds of lives.
Glenna
herself continued to stand at various clutches...until she aged out. After this, she stole away to the kitchens, accepting the role of a weyrfolk. If she wasn't meant to be a rider, then she can serve in other ways. With many frightened under Golre's reign,
Glenna
took it upon herself to take these people under her wing and make them feel better, no matter their position. Be they Candidate, weyrfolk, or rider, all found solace with
Glenna
.
When Golre was felled,
Glenna
was among those to spit upon the ground and bid her good riddance. With that pair gone, life could return to some semblance of normal, under Fort's guidance. With zero faith or interest in following Tradition ever again after Golre,
Glenna
was willing to give the newly established Council a chance. They haven't failed her yet.
Shortly after the wars ended,
Glenna
became weyrmates with her childhood sweetheart and once fellow Candidate, now a rider himself. Together, they had two fine children, with hopes that both would become riders. Their son succeeded, while their daughter aged out and became weyrfolk alongside her mother. They were all happy, their little High Reaches family, until Thread claimed A'dair and his blue, both going
between,
never to be seen again.
Glenna
was heartbroken when she heard the news, and struggled for many Turns. Why should she go on without her A'dair? Eventually, however, life beckoned
Glenna
out of her daze, promising a brighter future, and
Glenna
listened, returning to her life as weyrfolk.
With no intention of going anywhere but up,
Glenna
has remained in her place as weyrfolk, puttering around the kitchens and overseeing the children like a hen with her young. While a dark spot of grief remains in her heart for her A'dair, she makes the most of what life she has left, and makes sure everyone else does the same.
UPDATES
Late Fall 2772:

Glenna

obtains a flit egg as a handout and Impresses gold Autumn