SAJARIN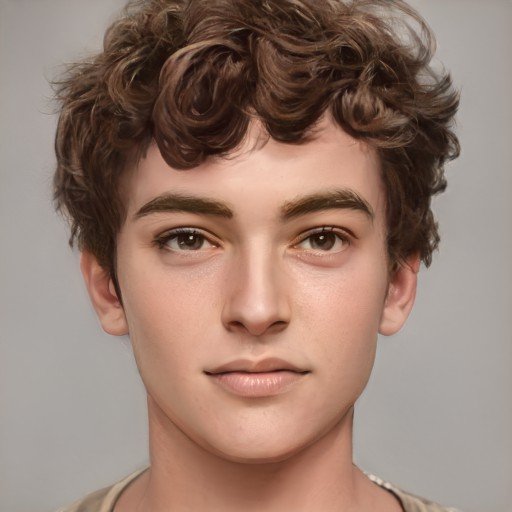 "What is that? WHAT IS THAT? GET IT AWAY!"
BASICS
NAME:
Sajarin
GENDER:
Male
PRONOUNS:
He/him/his
ORIENTATION:
Oblivious
BIRTHDATE:
Spring 2741
AGE:
30 as of 2772
LOCATION:
Semaca Weyr
OCCUPATION:
Wherling
WING:
N/A
APPEARANCE
EYES:
A nice, warm brown
HAIR:
Brown, a little on the curly side
HEIGHT AND BUILD:
5'11", thin
PLAY-BY:
FULL APPEARANCE:
Sitting at a fairly average height and thinner build, Sajarin isn't exactly someone who stands out in a crowd. Nothing about his stature or presence draws much attention, and he doesn't look remarkably scary, threatening, interesting... He likes to think he just is. Short but curly hair sits atop his head, a good medium brown in color; his eyes are brown as well and are on the warmer side, and it's not uncommon to see him fighting off tears over something.
While he's been working as a laborer for Turns now, he doesn't really look like it. He's a little on the scrawny side, fair skinned and lacking any scars or marks to prove his working life exists. There's always a spring in his step, his clothes never quite match, and he really just looks like he's around for a happy time. Even if he's a bit of a baby and spooks easily, he just comes across as chipper.
PERSONALITY
PERSONALITY:
Why is this man crying again? Why does he cry so much? Is crying all there is to Sajarin? Well, no. He just has a lot of feelings, and sometimes--a lot of the time--that's expressed in tears. Angry tears, although anger is a rare emotion for him; embarrassed tears, more common; happy tears, which happen most of all. It doesn't really matter the circumstance. If there's a reason to cry about it, Sajarin is your man.
He's as soft a man as the tears might indicate. He's kind hearted and has a love for life many can't relate to. He's terribly optimistic, even if things are scary and dark and uncertain. And he's afraid of...well, absolutely
everything
. It goes beyond just being nervous or anxious--both of which he is prone to--but everything is terrifying! Crabs? Horrible! Insects of all kinds? The stuff of nightmares! And the way he spooks so easily is almost comical at times!
Despite being so afraid of so many things so much of the time, Sajarin is also a desperately
brave
man. He tackles his fears head-on, even if he's screaming and crying as he does it. He's bull-headed in that the best way to get around a fear is to push right through it, and he usually finds it wasn't so bad on the other side after all. He's especially quick to do so for his friends and family, unless it involves insects. That's a hard line for him. Someone else will have to get them outside--because that's right, he won't let them squash them!
Aside from a difficult-to-master fear of the world and an optimism that has him bouncing back effortlessly, Sajarin can be a little clueless. Romantically, sexually, socially--many things go right over his head, and he's far from the sharpest tool in the shed. Not that he's dumb, just...naive. Even at his age, he always expects the best in people and is often blind to the worst. He's loyal to people he attaches to even if they don't deserve it. He wouldn't know a flirt if it hit him like a brick to the face, and a lot of jokes and innuendos are completely lost on him.
In all, Sajarin is just a grown boy trying to live a man's life, who wants to make his family proud and make his way in life, even if half the time he'd rather hide.
HISTORY
FAMILY:
Sajaria - Mother - Blue Sarjask
M'nar - Father - Green Alianarth
Vixen
[-2] - Brother - Seafoam Xesk
Maja [+2] - Sister - Brown Tornaoth
Morjaria [-1] - Sister - Blue Samath
SIGNIFICANT OTHER:
None
BIRTHPLACE:
Telgar Weyr
HISTORY:
Not unlike his younger brother Vixen, Sajarin was raised in the creche, a Weyrbrat through and through. While he knew of and was involved with his family, he also tended to view the others in the creche as an extended family of sorts. They were the ones he spent his time with most, and they were the ones he considered himself closest to. He was always a nervous and uncertain boy, but that didn't stop him from trying to make friends out of anyone he met.
Despite being older than Vixen, Sajarin quickly took to looking up to his brother. He saw Vixen as someone with a good hold on his life and himself, even as kids, mostly due to the skewed views of a child. Still, he kept Vixen on a little bit of a pedestal and wanted to follow in the younger man's steps, so when Vixen became a candidate, Sajarin wanted to be as well. He was fortunate enough to be found acceptable by a Searchdragon. It played out well for Vixen and their sisters, and Sajarin was excited for his younger brother most of all.
His time spent as a candidate revolved almost entirely around that part of his life. He wanted nothing more than to Impress and be of good use to the Weyr and to be a part of his family's legacy. He did not judge Vixen too harshly when he missed a burrow and subsequently transferred away from their home. In fact, he secretly continued to write to his brother at Semaca, though he feared his family's reaction to this and so kept it to himself. He didn't know if their family would accept this or see it as a betrayal, and the fear he'd faced his entire life kept him from opening up about it.
By the time he had aged out of candidacy and was no longer eligible to Impress a dragon, Sajarin had largely given up on the idea of bonding to anything and had sought out an alternative. With as much as he looked up to his little brother, his first thought was to apprentice as a healer. It went well--he liked helping people!--until he saw blood on his second day and fainted immediately. So he retreated to simpler standard weyrfolk work, not quite drudgery but close to it. If it meant he could help, he would do it--no complaints.
Peace could not last forever, though. As much as he kept himself out of trouble and tried to ignore politics and the scarier aspects of life, his stash of letters from Vixen were discovered by his family. He'd hidden his latest letter-in-progress with them, in which he told Vixen how he longed to go to Semaca with him and become a Wherhandler. He expected his family's anger and wrath at his betrayal...
But to his great surprise, they were supportive of this. They gave him their blessings to transfer to Semaca. He wasted no time at all in packing his belongings so that he could go. If there was still hope for him to become something more than just a laborer, he felt in his bones it would be at Semaca.