Kurama of Green Rosaceaeth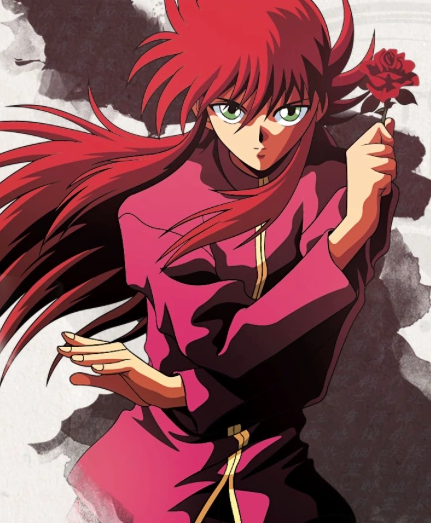 "The more impatient we are, the more mistakes we'll make." - Kurama, Yu Yu Hakusho
BASICS
NAME:
Kurama
GENDER:
Male
PRONOUNS:
Masculine
ORIENTATION:
Homosexual
BIRTHDATE:
Spring 2750
AGE:
20 as of Late Winter 2770
LOCATION:
Semaca Weyr
OCCUPATION:
Dragonrider
WING:
Requiem Squad
APPEARANCE
EYES:
Green
HAIR:
Red
HEIGHT AND BUILD:
5'8" and Lithe
PLAY-BY:
Kurama (Yu Yu Hakusho)
FULL APPEARANCE:
Kurama has extremely long red hair that will often go down to his midback. Due to this and his lithe body, it is hard at first glance what gender he identifies as. He will often wear warmer colors in his clothing, but will wear light greys and dark greens as well.
PERSONALITY
PERSONALITY:
Kurama had a very sharp mind. He reacts quickly on changing during dangerous situations, making him very skilled when it comes to hunting spotties in the jungle outside of Semaca. He seems to have a lot of good potential to become a wingleader or a point, but he had no interest in doing so. In his words, he is 'perfectly fine just doing his job and he isn't really fit for leadership'. He tends to be easy-going as well, often appearing relaxed. He seems to feel the most calm around nature and, if he had never impressed, he would have likely returned to studying farmercraft.
However, it is incredibly easy to manipulate Kurama. He has a kind heart and will often go out of his way to help others in need. Just one sob story is enough to get him to go out of his way to help someone, much to the annoyance of his dragon. He is willing to do anything to help those in need. This includes sacrificing his own happiness and wellbeing. This can often end up with him being injured, or not receiving credit where credit was due. Due to this, Rosaceaeth and him often bicker with the dragon trying to stop him from helping everyone.
HISTORY
FAMILY:
Mother (Deceased)
Father
Brother
SIGNIFICANT OTHER:
N/A
BIRTHPLACE:
Minor Hold
HISTORY:
- Life in a minor hold
- Becoming an apprentice
- Life at Telgar Weyr
- Impressing to Rosaceaeth, mother's death
- Moving to Semaca, brother becomes candidate